Kavitha beams as she works her loom.
For the first time in her life she is free. With skills she learned at a vocational training center and with the encouragement of other women in her self-help group, Kavitha is proud to have a skill she can use to support her family.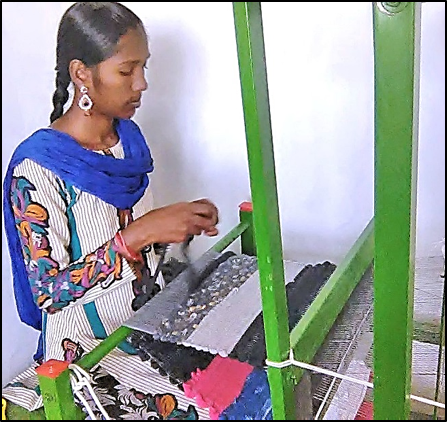 It wasn't always this way.
Like most Dalit women, Kavitha was born into extreme poverty and faced incredible hardship as she grew up. Unable to read or write, she was forced into domestic service with very long hours for very low pay. She said, "I thought the rest of my life would be spent like this. But thanks to my training, it's not! I am making mats for people to use in their homes now. Not only am I helping myself, I am helping others. Thank you to those who helped make this possible."
Kavitha is one of thousands of women who now inspire others. She gives them hope.
Last March, nearly 2,000 women gathered in locations all over India in a show of solidarity and sisterhood for a day. It was a mini-conference of sorts. Vocational training graduates were honored, achievements were celebrated, and local dignitaries brought greetings. In one village, the women were able to shut down a shop that sold illegal alcohol, and they also organized a midday meal program in their local school to ensure students received adequate nutrition.
Beyond the certificates and the celebrations are the friendships made and the inspiration women give each other. Many women living in poverty are isolated. With the daily struggle to survive, there is no time for friendships, relaxing, enjoying a cup of chai, and laughing. These mini-conferences give women the chance to be with each other, share their joys as well as their hardships. They leave the day renewed, inspired to share their stories with others in similar circumstances.
This is the way communities are transformed.
They are transformed from the inside out. From the ground up. One conference participant, an agricultural worker, said, "This was the best day I had in a long time. I was able to meet new friends, and I was inspired by seeing those in my village receive certificates of achievement. It made me want to join a vocational program myself."
We salute these women.
We lift them up. Each one is precious. Each one has worth. Each one has gifts she can use for good. At Dalit Freedom Network, we are committed to empowering women.
It takes just $5 to send a woman to a mini-conference. It takes just $100 to start a woman on the road to freedom. Will you join us in freeing Dalit women?