Meet Kumaramma.
At 25, she is a loving, hard-working daughter, mother and widow. Sadly, her husband passed away two years ago due to a fatal illness. But she has persevered and is raising her three-year-old daughter as a single mother.
After his death, Kumaramma began working in a  factory to provide for her family. She lives with her mother and daughter in a small hut.
Unlike her mother, Kumaramma has escaped the life of a jogini (ritual form of sex slavery) in her village. However, growing up she faced much prejudice from her peers and others in the community because her mother was a jogini.
As an adult with a steady job and a child she loves, she put the jogini stigma behind her.
Or so she thought.
There are many different ways the jogini system in India has affected women over the centuries — not all of it directly.
As she was working in the factory one day, an iron plate fell from the roof and landed on Kumaramma's leg. She was badly injured and bleeding profusely. Her friends rushed her to the local clinic for treatment. After a few days, she realized the injury was not healing and the wound was getting more and more painful.
Subsequent visits to the doctor didn't help either.
So she decided to try Hindu acts of worship, known as Pujas, for her healing. The belief in her village was that these Pujas performed by a temple priest will heal any ailment. They are also quite expensive. But, Kumaramma was desperate for her leg to heal so she could return to work. She took the advice of her relatives and went to many different temples for multiple Pujas.
None of these ceremonies healed her leg.
Kumaramma's situation was becoming quite bleak. Without her job, she was unable to provide for her mother and daughter. Not only that, but the pain in her leg was becoming unbearable.
A DFN health worker was visiting Kumaramma's village and learned of her situation. After a long talk with our health worker, Kumaramma agreed to visit a government hospital with our staff. The doctor was very attentive and asked for a complete background history of her wound and life, in addition to treating the leg.
He asked Kumaramma to take an HIV test.
Our staff supported Kumaramma through this as she was at first reluctant to take the test. Unfortunately, the result came back as positive.
Most likely in shock or denial, Kumaramma refused to take the medication. Our health workers continued to stay by her side and give her the support she needed to understand the seriousness of this illness and the benefits the medications would bring about.
As a result, she began taking the medication. Three months later and after regular follow up visits from our staff, Kumaramma is feeling much better and her wound finally healed!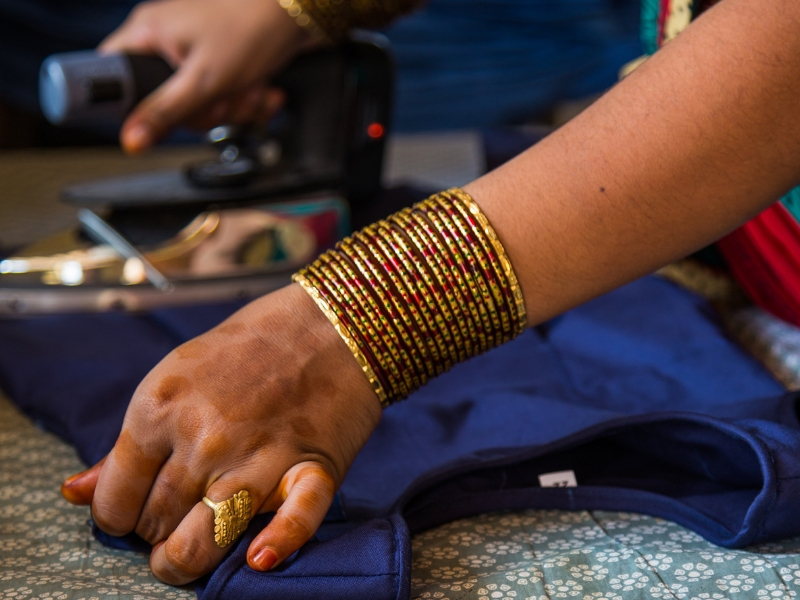 She has successfully returned to work and has expressed her gratitude for the support she received during this challenging time.
"If you did not come in time, I may not be in this world right now," she said.
Kumaramma's daughter was also tested and thankfully, her results came back negative. Although Kumaramma herself was not a part of the centuries-old jogini system, she suffered the trickle-down affects of sex slavery survivor.
There are many more women out there suffering a similar fate who need our help. Will you join us in our work to help them?