Thank you. Thank you for caring about the poor in our world. Thank you for knowing that there is plenty of food to feed the world and that no mom should ever have to wonder if she will be able to feed her children tomorrow.
Inside your free eBook, you'll find 7 Prayers that will align your heart with the heart of God. You'll point your heart to the root causes of poverty while praying for strength and stamina for those caught in the chains of suffering. So go ahead, download your free eBook below. Then find a quiet corner where you can speak peace, provision, and hope into the daily lives of those struggling to survive.
India is the land of billions, of people tucked into every corner of every street, of lives as colorful and complicated as the land itself. Dignity Freedom Network works to remember the forgotten faces. We think every life is worth restoring, and every person worth a fair start.
I want to share a story with you about Raksha.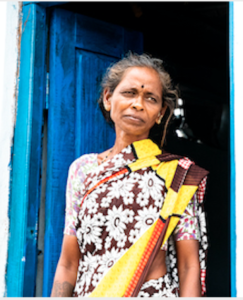 The name "Raksha" means protector, but from an early age, she had little to protect. As a young child, she was sentenced by her family to be a Jogini in her village. Joginis are dedicated at a young age into an ancient system of ritualized prostitution. By the time they are 12 years old, they become the property of every man in the village for sexual exploitation, any time, anywhere. It's an unthinkable practice that India has outlawed but that still exists in rural villages.
At DFN, we don't believe in life sentences handed out by selfish, evil perpetrators, and neither do you.
Thanks to people like you, Raksha no longer believes that either. Several years ago, one of our village Freedom Fighters offered Raksha a way out of these horrors. She took the chance that she could be more than her circumstance. And guess what? She is!
Because of compassionate people like you, Raksha not only has a thriving chili powder business, but she also has a new home built just for her.
And, she herself has stopped THREE Jogini dedications in the last 6 months! She has become a Freedom Fighter, she now lives fully into her name bringing hope and freedom to other young girls every day.
Triumphant stories like Raksha's don't happen by chance. They happen when people like you believe every life is worth fighting for.
You can help women like Raksha today with your generous gift. Help protect innocent children receive education and a support system to thrive!
With Hope,
Jacquelyn A. Cork
Executive Director, Dignity Freedom Network USA
PS — You're prayers just might move you to action. Here's another free eBook on 5 Ways You Can Change a Life Forever, that don't cost money.